Is it worth a watch? -Julie and the Phantoms-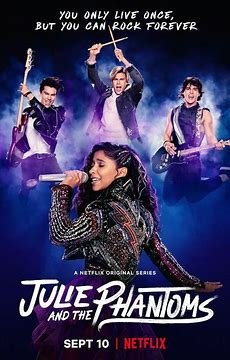 Julie and the Phantoms is a G-Rated Netflix Original that's directed and produced by none other than Kenny Ortega. If you don't know who Kenny Ortega is he directed the infamous movies High School Musical 1-3 and Descendants 1-3 as well. The reason this show piqued my interest is that it's been getting a lot of attention on TikTok. My For You Page was filled with TikTok's regarding this show, so I decided to give it a chance.
In the trailer, we meet Julie, a 16-year-old that has lost her mother, who is struggling to find the passion to sing again. We see her in what seems to be her mom's studio when all of a sudden 3 boys show up, which we then know that they are ghosts. Luke, the main guitarist and the lead singer, is then seen with Reggie, the second guitarist, asking Julie to join their band. 
It is then shown that the boys can only be seen when they play with Julie, which is the reason they want her to join the band. For no one to question why they can appear then disappear she says they're holograms. They are then given the name Julie and the Phantoms. Just when everything seems to be going great the boys are having these shocks which will proceed to get worse if they don't complete their unfinished business and cross over to the other side. 
The show only has 9 episodes that last around 24-38 minutes each. This is by far one of my favorite shows. The characters had great chemistry with one another and it was clear that friendships were made during this process. It also has a great LGBTQ+ character if that's something that matters to you. The casting was done great and if you watch the video "Behind the Band: Casting" you can see them from the beginning.  It's a great show if you want to binge-watch it in one day. 
I recommend watching this either by yourself or with your family. I made my mom watch it with me and she loved it as well. I have already rewatched it several times since I first saw it. 
5/5 horseshoes.