Deadly Deadlines
Hang on for a minute...we're trying to find some more stories you might like.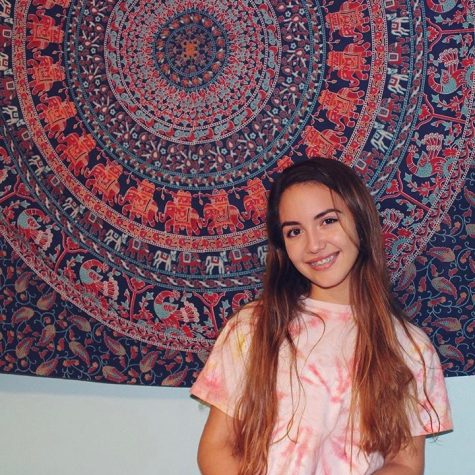 More stories from Andrea Resendez
It was Friday, October 13th, and the newspaper staff had a huge portfolio deadline coming up very soon. Sixth period had been very hectic, so Mrs. Martin, the newspaper advisor, suggested that the staff stay late after school to finish their portfolios before heading home for the weekend. Andrea, Elise, Avery, Victoria, and Zach decided to stay behind with Quinn, who was working on a yearbook deadline that he never finished from three weeks previous.
The 4:15 p.m. bell rang which meant that school had ended and the staff would soon be getting to work. They all sat in room 39 and worked for hours on end. It was already dark out, and the staff was getting ready to finalize their beautiful portfolios and go home. Avery went out into the hallway to ask Mrs. Martin if they could leave, but when she stepped out of the room, Mrs. Martin was nowhere to be found. She called her phone and waited for the sound of the Harry Potter ringtone, but it never played. Avery shouted, "Mrs. Martin…? Hello?" But Mrs. Martin was gone.
Avery came running back into the room, she told everyone that Mrs. Martin was missing. Since it was already late into the night, the hallway lights were all shut off. The staff turned on their phone flashlights and went looking for her.
After searching for 30 minutes, Mrs. Martin was still nowhere to be found. Everyone began to get very nervous, because not only did they need to turn in their portfolios, but it was very unusual of Mrs. Martin to leave unannounced. Victoria pushed on the back door which led to the parking lot, but it wouldn't open. They all paused in disbelief. Elise pushed on the door twice as hard, but nothing changed. The staff realized the doors were locked. The Round-Up staff was locked inside the school.
Suddenly the lights flickered on and back off. The sound of electricity generators being shut down ran through the hallways. Their phones no longer had signal. The staff huddled together in fear. Zach knew something was terribly wrong and led everyone to Mr. Moore's room to hide until they knew what was going on. Before taking off, Zach took roll to make sure everyone was together and safe. Andrea, Elise, Avery, Victoria, himself, and… where was Quinn?
"PAPOY BANANAAAAA!!" was screeched down the pitch black main hallway. Footsteps raced by the staff causing the wind to run onto their skin. "Hello? Who are you?" cried Andrea. Maniacal laughter exploded from the restrooms. Zach ran to Mr. Moore's room and desperately shook the doorknob in attempts of reaching safety. "COUNT MY GUAC PIGGIES BUAHAHAHA!" came from the mysterious person holding them hostage. The lights came on, and there was Quinn, standing next to Mrs. Martin, who was tied to a chair wearing goggles, overalls, and work boots.
The spookiest part of this story? The portfolios were never turned in and the deadlines were never met.