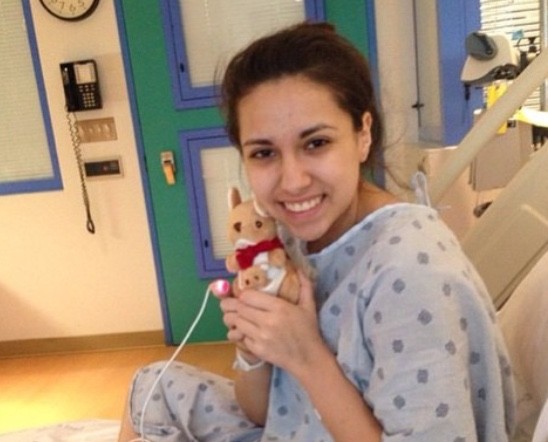 Team Briana
Complaining about recurring headaches two weeks ago, Briana Fernandez(10) went to the hospital to get it checked out.
"Everything happened so fast," Isla Herrera, Briana's aunt and godmother said. "Friday [April 24], Briana was at the Renaissance hospital. Saturday morning, I went to go see her and I found out that they saw something in her brain. That afternoon, they flew her to Houston. Sunday morning, her parents called me ballistic that it was cancer. They got her in for surgery right away on Tuesday."
Fernandez woke to encouraging messages of all sorts from the people rooting for her back home.
"She's very, very touched," said Herrera, who is also the college counselor on campus. "I guess she was going through her phone and she saw that we organized a volleyball game for her and she's excited."
The game will be Thursday, May 7 and the money will go to her family.
Along with the game, popcorn and t-shirts are being sold here and at Cathey to raise money for her expenses. A GoFundMe account was also set up by her uncle and promoted through social media asking for donations. They reached their goal of $8,000 in two days receiving donations from 119 people.
"They were going through a little financial difficulty," Herrera said. "So this has really been a blessing that they can now concentrate on staying with her and helping her get through it all, instead of having to always be worrying where the money is going to come from."
Herrera says Briana's mother understands better than anyone what her daughter is going through–she is also a cancer survivor in remission.
"She went through her hard time four or five years ago, and now she's going to be there at her daughter's side while she's going through the same thing," Herrera said. "The family is doing well now. They're in a lot better spirits [since the surgery] and they're optimistic."
The Fernandez family constantly mentions to Herrera how grateful they are for all the support they're getting from the students and faculty.
"The support her for us has been amazing," Herrera said. "She's a great kid and I knew she was well-liked and everything, but the community has really come together for her with this and she's very grateful."