The Newest Force In Physics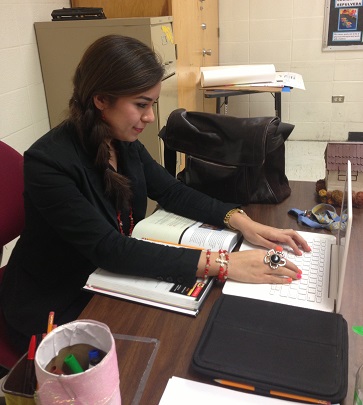 Advertisement
Hang on for a minute...we're trying to find some more stories you might like.
An eager addition to the faculty, Angelli Gomez has settled into her niche as the newest physics teacher, finishing now her fourth week of teaching. Days after Jose Cantu departed El Dorado Drive hallway, Gomez readily stepped into the line of duty. Having only previously taught church school and choir class, instructing a physics class at a public school is a completely new experience for the young educator.
"I absolutely love it so far," Gomez says. "My favorite part about it has been getting to know the students individually and building a relationship with my classes. I'm lucky I get to teach good, funny, respectful kids who do their work."
Although she majored in Biology, Gomez expressed that she loves science in general and enjoyed being taught physics in high school, which she graduated through the IB Program at Lamar Academy in 2008.
"I've found that teaching science is as much of a pleasure as it was learning it," Gomez stated. "Naturally, I felt nervous at the beginning, but now that I've been here for a few weeks I'm a lot more comfortable. I always look forward to planning the day's lesson and seeing the kids understanding it when I teach it to them the next day."
Gomez said that the hardest part about her new job has been adapting to the hectic nature of a high school and being flexible with students' both academic and extracurricular schedules.
"I've learned that you have to make your rules and due dates and expectations, but, at the same, time work with the student and make accommodations according to circumstances that they're in," Gomez said.
Overall, the young teacher indicates that she is growing fond of her new position and school. She plans to teach physics again next year.