The History of My Username
Hang on for a minute...we're trying to find some more stories you might like.
"I was a freshman when I first created twitter. When I was thinking which username to use, I
wanted it to be simple and easy enough for people to know it's me. I finally decided to use the
username, @JMARTINEZ130 because it was my first initial of my name, my full last name, and
my birth date. If I had the chance to change it, I would want my username to be @GOD. This
username would be an original name and it would be cool to like other posts and people would
receive the notification, '@GOD like your post.' I still really like my username though, it's really
fun to say and easy to memorize. One time my dad called by my username and he doesn't even
have twitter…"
-Juan Martinez, Junior
"My friend Amber Howell really liked avocados and would use the word 'Groovy' often. Since my
instagram username, at the time, was just my first and last name I decided to change it to
@GROOVYAVOCADO because I wanted it to be funny and Amber inspired me to do so. This
username defined me because I also enjoyed avocados and thought of myself as a groovy
person. Some of my friends, teachers, and even strangers would call me by that name. I would
say this has become my nickname. Although I really liked my username, If I ever changed it
again, I would probably go back to my original username for college purposes."
-Roxanne Guajardo, Senior
"In seventh grade, I made a Snapchat with the username @ARMYDOG87 because it was the
name my friends had called me at the time. This username defined me because it was like my
second identity and it made me, me. It was a funny name and I would go back to change it
because it was made when I was younger and now it's a little embarrassing. Every day during
Track/Cross Country practice, my friends jokingly started calling me Armydog87 and even
named a roller after my username. At first it made me mad and insecure about the name, but as
time went on I found it really funny. If I could change my username again, I would have it as
@NATEDAWG_9 because it was my other nickname and it was also my gaming name."
-Nathaniel Garza, Junior
"I created a Finsta account when I was a freshman because it seemed like a cool idea. Fintsa
was a secret account on Instagram that you could post anything you wanted to just your close
friends that followed you. Finsta usernames were usually silly and could be anything you
thought of because the account was so secretive. I decided to make my username @KAKASHA
because someone called me that by mistake. I thought it was really funny and so I put it as my
Finsta username, now other people call me that."
-Tasha Braga, Sophomore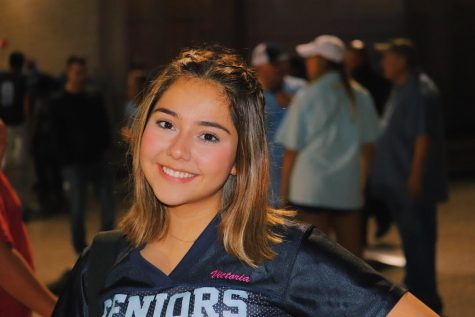 Victoria Velasco, Co-Editor
Hey, Y'all!! It's Victoria here! I'm a Senior this year and I'm the co-editor of the newspaper, organizational editor of the yearbook, and Senior...