Sacrifices of Success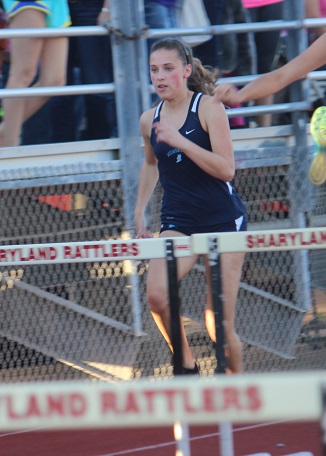 Advertisement
Hang on for a minute...we're trying to find some more stories you might like.
Sarah Summers(11) has hurdled her way through this track season all the way to the regionals this Friday in San Antonio. This may create a problem for the junior though.
Prom is Saturday night. The same day, Sarah has a chance at advancing past the preliminaries and qualifying for finals.
"I honestly have no idea [how I'd do both if I qualified]," Summers said. "I run Friday at 4:30 and if I make finals, I will have to compete Saturday then just come home right after and get ready."
Summers has had a stellar season this year. She dropped one second in the 100 meter hurdles, two seconds in the 300 hurdles, and she has matched her personal best in the pole vault.
Throughout the season, Summers juggles all three of these events at practices and in the meets and dedicates her precious hours during the week to training and improving times.
She describes her season as exciting and stressful at the same time.
"Exciting because I ended up doing so well, stressful because I had some bad meets where I didn't do as well as I hoped," she said.
The work she put into her training paid off in full at the area meet when she qualified. Summers had a close race, but came out in front of fifth place, sealing her 4th place qualifying spot.
"It felt pretty good," Summers said. "I wasn't expected to qualify and when I saw that I did, I was really proud of myself.'
Right after she found out, Summers ran to celebrate with her friends on the team and fellow competitors. She got big congratulations from all of her teammates who were out on the field with her. Everyone understood how big of a deal it was for her to qualify.
Summers has noted that there is something different about this year's team from years past.
"We have gotten a lot closer this year and that has really helped us," she said. "We supported each other all the way."