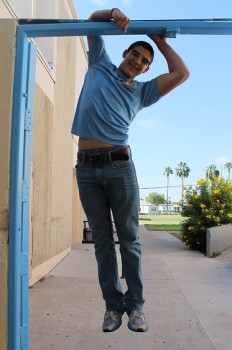 Hi, hello, howdy, greetings, and salutations - I'm Josh Godinez and I guess I'm supposed to be leading this show, or something like that. Some might say I'm the editor-in-chief, but really, I'm just another member of this 2013-2014 Round-Up staff, waist-deep amidst my second year of being involved with the newspaper.
Outside of my confinement to room 39, I play football for Memorial, and dedicate myself to various school clubs as well. Physical fitness a genuine priority in my life - anyone who knows me on a personal level can testify that I spend an overbearing amount of time at my gym, Ranger Crossfit. Perhaps more significant than that, however, is my commitment to my church and my youth group. I love to relax with a pole in the water or a firearm in my hands. Accordingly, my truck can be found driving itself to my ranch or South Padre Island on any given weekend.
So that's me: over-stretched, overcommitted, and interested in far too many aspects of life - and I'm loving it! Our truehearted readers best be ready for all the glorious things that this year's newspaper staff will bringing to the table of journalistic venture!
Josh Godinez, Editor-in-chief, Editor-in-chief