Ayiza Reyna Qualifies for Regionals
Hang on for a minute...we're trying to find some more stories you might like.
Early in the morning on October 18th, Ayiza Reyna(12) lined up on the starting line for the varsity district cross country meet. She knew it would be her last year wearing our blue and gold uniform, and that the district meet could easily mean the end of the season if she didn't place in the top three. Using this as her motivation, she finished third and earned her ticket to the regional meet.
"It felt amazing [to be awarded the medal] because I have worked really hard for that moment to stand up [on stage] and hold my head up high instead of down like last year," Reyna said.
Reyna has overcome a lot since last season, when she overworked herself and suffered from a stress fracture. She says the injury made her want the qualifying spot even more because she had missed out on her junior year.
"I planted a 'seed' in my head so I would train to make it," said Reyna. "I ran every day, ate healthily, and tried not to overdo it."
Reyna has had a stellar season leading up to her personal record-breaking race at district. She has placed top 15 in all of her races this year and had two first place finishes. Her constant hard work and year-round training has helped her improve impressively. This is one of the things that helped her PR at district with a time of 19 minutes 43 seconds.
"I was kind of scared to run, especially to sprint in the end because I didn't know if it was going to hurt or not," she said."but being committed and staying strong helped me make it through. I know I had to make a good comeback and pass people, so that's what I did."
Ayiza will be the only Mustang advancing to regionals in San Antonio on November 2nd. Her hard work has allowed her to become the runner she is today, and even now, she continues to train for her upcoming race.
According to Reyna, "The district race was intense and fast-paced; the race coming up in San Antonio is going to be so much tougher because I'll be up against the best."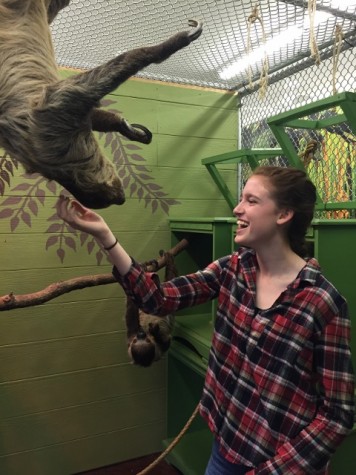 Natalie Young, Editor-in-Chief
Once upon a time, there was a girl who met a sloth. She fed it pears and learned it only releases waste every two months. The end.



I hope...