Girls Softball Hits it Hard in the Ballpark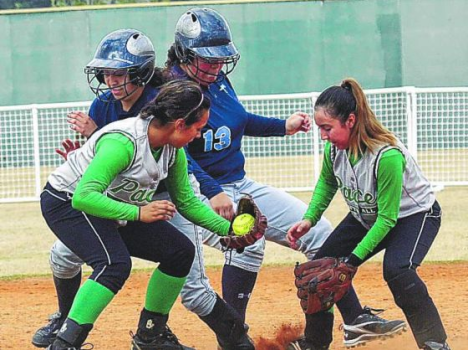 Hang on for a minute...we're trying to find some more stories you might like.
The wind on the fresh grass and shine from the bright blue sky is all too much to take for Allisha Liones (11), who is already excited that this fall signs the start of Girls Softball.
"I already have my new glove stretched out to go," Liones said. "I get time to make sprints on the track and push myself as fast to first-base as possible." Much of the team said they have already been doing something outside of school to prepare for this season.
This year coach Audra Flores plans to have more activity at practice across the ballpark than last year. She wants to work on gaging the field control better, something that the team was not exceptional in last year.
"We lost some games because of the lack of connections we had with each other during some strong-willed plays," Coach Flores said. "The talent and hard work is something that this school is privledged to be abundant in, and I'm not worried about the chances the girls have in making it work this year."
Junior Varsity catcher Alex Gutierrez (11) agrees that better connections across the field would make an unstoppable trail for all of the girls softball teams this year. Gutierrez is trying to improve these connections by changing them off the field and establishing better comradery.
This year's schedule offers much more rigor than last year but Coach Flores feels that this district's schedule only inspires them to work harder. "With teams like Weslaco, Edinburg, and other McAllen Schools, you can't help but put in better effort into the game."
Girls Softball Season Starts October 29 with a preseason warm-up against Edinburg.