Cross Country Running to Full Drive
Hang on for a minute...we're trying to find some more stories you might like.
Cross Country Head Coach Flores or "Flo" has been absent the past week and a half due to a unfortunate appendix infection. Now back and running, Coach Flo and the whole team are aiming to hit the track hard this week so they can break their unexpected and snowballed beginning.
Versatile athle
te Xavier Jimenez (11) feels that the team has much potential this year.
"Work, work, work; that's all we're doing," Jimenez said. "It's going pay off. I'm already seeing it pay off."
Last weekend the team participated in a local competition hosted at the McAllen Veterans Stadium just for all three McAllen schools. Memorial came in last place, falling behind Nikki Rowe.
"It was hard to keep the program strong without a coach being there to guide us," Varsity Cross Country member Ezra Salazar (12) said. "I'm so ecstatic to see Coach Flo back, I know we all are."
Coach Flo has his sights on a competition this weekend.
"I really want to make sure we're all prepared and we all go in strong," Flo said. "This weekend will be something to watch for."
Varsity Cross Country will be competing this or next weekend in San Benito, McAllen, or Harlingen.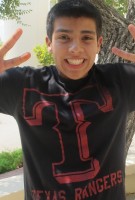 David X Ontiveros, Writer
Hello my name is David Ontiveros and this will be a documentation on the things of my past life. Born a baby, I become a man, live my life, I die. Right...