Varsity Football Team Loses 24-21 to Jaguars in Final Field Goal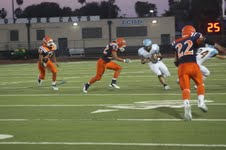 Hang on for a minute...we're trying to find some more stories you might like.
With a grand close to a breathtaking second game, last year's perfect 13-1 Varsity Champs lost in the last 19 seconds to the Economedes Jaguars with a 39-yard field goal.
After three punts to begin the game, Varsity offered the first points with a seven yard run from freshman Trevor Speights (9). Later they broke a 14-14 halftime tie with Diego Chrysler's (10) 2-yard run midway through the third quarter.
After that, turnovers and penalties destroyed every drive the Mustangs had. That allowed the Jaguars to hang around and eventually steal the momentum and win the game. "I take my hat off to them. We did a good job, we just made mistakes at critical times," Head Coach Littleton said.
Chrysler was eventually sacked on his own fifteen. This allowed for a nice field goal attempt from the other team.
But it didn't end entirely with a field goal at the end. Instead of working on the ball for a few plays, Varsity attempted a Stanford Band-like lateral-filled kick return. It was in perfect sync when speedster Trevor Speights (9) found the ball, but he was pushed out of bounds.
"Tonight was a wake-up call," defensive linebacker Cody Stites (11) said. " Yes, it is disappointing we lost, but it's done, and we got to bounce back to get ready for next week."
Garret Sharp (12) led the defensive team again with 4 sacks, while Stites followed with 2.