The New Kid on the Block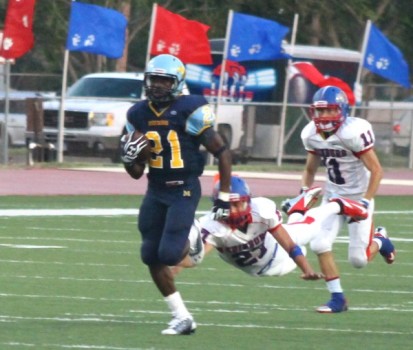 Hang on for a minute...we're trying to find some more stories you might like.
Trevor Speights (9) had a good first week of school in this new "big middle school" of his. He went to his classes, met new people and teachers, went to football practice, had orchestra rehearsals, and on Saturday night helped propel the Mighty Mustang varsity football team into their first win of the year against Edinburg High School.
"It's intense," said Trevor, describing the feeling of being a freshman on a team mainly filled with upperclassmen, "but I've also been working on football ever since I was like seven.  I've been working very hard to get to this level." As proved this past Saturday, Trevor has plenty of experience playing football under his belt. He has been playing ever since the second grade, being involved in the Boys & Girls Club to get his football fix ever since he was a little tyke.
Trevor started working with the football team after school workouts last year, where he would walk to Memorial and meet up with the  team to build chemistry, something that has already shown in the first game of the team's year. This wouldn't be his only interaction with last year's football team, whereas he got to catch a few games last year and even work out with last year's quarterback, Matthew Kauffmann.
During last Saturday's game, Trevor ran for over fifty yards in the second play of the game and scored the first touchdown of the game on the way there.
"I thought I did okay for my first game, but i have a lot to improve on," said Trevor after being asked on his opinion of his performance this past Saturday.
But, football isn't the only thing Trevor is involved in. "I play the violin, play basketball, and [run] track in the summer," said Trevor, before mentioning how he likes to read about famous athletes and how they made it to where they are now.
As for the upcoming future of the team, there are some big shoes to fill from last years 12-1 season, but that doesn't phase this young football player. Trevor's high hopes for this year showed when he said "I want this team to be the best team that has ever come through this school and shock the world." Not only looking forward to the team's distant future, Trevor expressed his confidence in this week's game by predicting a good game with Memorial coming up with the win "by about 30 [points.]"