Mu Alpha Theta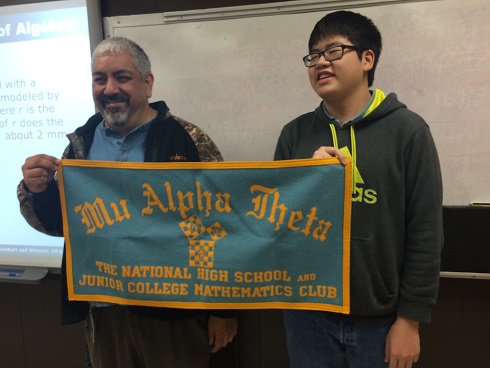 Hang on for a minute...we're trying to find some more stories you might like.
Mu, Alpha and Theta are all Greek letters that are typically associated to mathematics, and for the Mu Alpha Theta club, mathematics is what life is all about.
After years of inactivity, Benjamin Chen (12)and Algebra 2 teacher Juan Esparza decided to bring the club–which has also been dubbed the 'Math Honor Society'–back to life, enlisting some of the school's top scholars in mathematics.
Mu Alpha Theta is a nationally-recognized mathematics honor society whose main goals are to inspire and promote student's interest in mathematics and to develop strong scholarship opportunities in the subject.
"In prior years, the club had been used mostly as a tool to attract students to participate in competitive mathematics," Esparza said, "This year and in the future, we want to expand into doing more for our community, campus, and students at Memorial."
Students like Roberto De La Rosa (12) have already joined the club after being active competitors in the UIL Mathematics meets that Esparza has encouraged them to participate in for years.
"I wouldn't have found out about the club if it weren't for Mr. Esparza," De La Rosa said. "I have been going to the UIL Mathematics meets all throughout this year and thought the club was exactly what some of us 'math people' want to be a part of."
The reactivation of the club took longer than expected, which is why it is starting during the second semester of Chen's first and last year as president.
"I wanted to have all the arrangements and paperwork done early so the club could start early too," Chen said, "but everything took longer than expected. We had to wait until second semester to start with our official meetings and activities."
Some of the items for the rest of the year in the club's agenda include fundraisers through the sale of Pi shirts, meetings where previously-assigned students bring researched information about interesting math facts to trigger discussions related to the assigned topics, and math tutoring for students that are struggling.
The Mu Alpha Theta club meets every first Wednesday of the month in room 18.