Angela Alvarado
Hang on for a minute...we're trying to find some more stories you might like.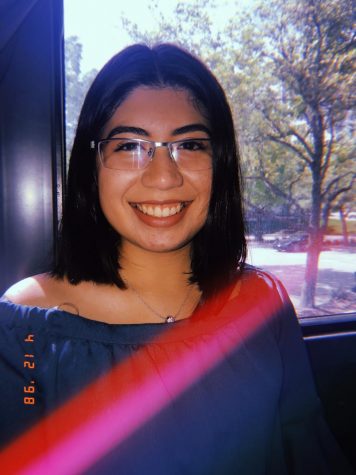 More stories from Denise Pedraza
Getting to Know: Angela Alvarado
Grade: Senior
Occupation: Defensive Specialist/ Libero
How Many Years Have You Been In Volleyball? 
I have been practicing Volleyball since I was in the fifth grade. I have always played the same position.
What Made You Join?
My mom signed me up when I was young and since then I grew a love for the sport and decided to keep on playing.
As The Defensive Specialist, What Is Your Job?
I play defense and am positioned in the back so I am often picking up any balls.
Why Did You Want To Be Defensive Specialist?
My coach actually chose the position for me. This position well suited my height, since I am too short to be in the front.
What Is Your Schedule Like?
I practice almost two times every day. We begin at 7:45 am and practice through the first period. We also practice right after school until 6:00 pm.
What Do You Like Most About Volleyball?
I really like the friendships that I made and being able to practice a sport in a team.
What Are Your Goals For This Year?
I would like to get better and give it my all of since it is my last year playing.
Any Struggles? 
Being committed to the sport is hard because it requires a lot of dedication and time. 
Are You Planning To Continue In College?
No, I think the end of my sports career is this year because my profession is not volleyball.
Any Advice To Anyone Who Would Like To Join?
Remember that the hard work will pay off and getting along with your teammates is important.
Any Advice To Aspiring Defensive Specialists?
Don't give up and give it your best because during a game every move is crucial.
Any Words To Your Readers?
Go support us at our games. Go Mustangs!