I Bid Thee Farewell
Hang on for a minute...we're trying to find some more stories you might like.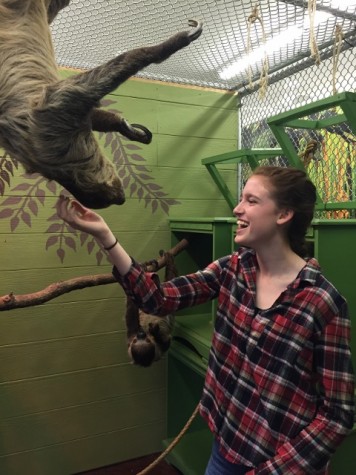 More stories from Natalie Young
When faced with the choice of newspaper or yearbook, newspaper or KMAC– newspaper or any other class you could have chosen to fill your schedule– we all chose newspaper. (The correct choice if you ask me.) And I hope you all agree. Our time in room 39 was filled with procrastination, writing interview questions, more procrastination, interesting conversations, tips from the editors, and a final product we all took pride in– oh, and you all got really good at coming up with five brainstorm ideas in five minutes.
This year I got to know all of you personally since we were such a small group and I'm so thankful– you guys are amazing people! My heart swells with pride when I think of how far you have all come as journalists; I know you three soon to be upperclassmen are more than ready to take the reins.
---
Gladys- You are a beautiful soul! I love being in a room with you every day knowing your gentle smile will meet me at our table when I sit down. Your soft-spoken presence in Room 39 has taken us further as a group than we could have been without you. I love all the stories you wrote and edited. Thank you for all your help this year both with NHS and newspaper. You are so kind and hard working– those two qualities will carry you far the rest of your life. People are going to recognize you for being the amazing person you are. I love that we got to get to know each other better this year at journalism camp, our late-night chats were great. I wish you well at A&M and I know whatever you end up doing, the world will be better for it because that's just the kind of person you are.
Claudia- Claudia! I am so so so glad you wandered into the newspaper room last year. If you hadn't done that, we probably would never have gotten to know each other as well as we have. I have loved our chats by the computers and have loved watching you mature as a writer– you've come a long way since your humble beginning. You caught on fast regardless of your lack of J1. You brought a lively spirit to the room this year and encouraged us to all get to know each other. You inspired conversation around the brainstorm table and were always willing to share. You were a part of what pushed us together as a group. That's a blessing, friend, and it will take you far. Good luck Claudia. If you're ever doubting yourself, remember you are Claudia Alaniz, that should be enough. Take on the world the way only you can– confidently and with style.
Sam- Thank you for hopping on board with us this year. I'm glad newspaper was interesting enough to tear you from your music. You brought a unique beat to the staff– thank you for always informing us of the going-ons of the orchestra. I especially enjoyed what you wrote about the "tragic life of competition" or something like that. You have a strong voice in your writing and I encourage you to continue practicing (which includes reading and writing daily) so you can come back strong. Journalism camp this summer at A&M is going to be magical for you and Delia. Make the most of your time there because it's definitely one of those experiences where you get what you put into it. (And go to all the sessions with David Knight! You won't regret it) You'll be a great co-editor next year, never stop talking about orchestra, friend!
Delia- I don't know if there's ever been a staffer who has worked as hard as you. You amaze me. Each week you turned out a story better than the last. You always came to me with questions and a mind ready to soak it all in. I hope I helped prepare you to step up as editor next year, and I encourage you to aim to be even better at it than I was. (I know you will). Continue to be hungry for knowledge, even if you have to go to the dreaded blue journalism book or the Internet for answers. Just like I wrote Sam, take full advantage of your time at journalism camp. It is an amazing, rewarding experience (and there are chances to be recognized with awards for excellence in writing. You both have it in you.) Again, I am so glad you found your way to newspaper. I loved reading your work, answering your questions and getting to know the kind, happy person you are. Keep working hard and feel free to text/call me anytime!
Jacob- Oof, though act to follow. But you're my brother and I love you too in spite of your lack of weekly stories. It was a unique experience to be able to work with you in newspaper and edit your stories. I will always remember it and be proud. You also improved with every story you wrote (even though we would argue about them sometimes). I encourage you to write a lot more for the practice and let Delia help you with the style. (Maybe you can teach her something about sports, you are the sports editor, you know.) Your work carries the voice of a sports reporter that I can only guess comes from all the Sports Center you watch. You are constantly intaking sports media and that's going to be so helpful to you as you pursue a career in sports broadcasting. …You could maybe spend some more time working on spelling and grammar, though. That would help you a ton too. I'm proud of you, bro, and I can't wait to see what you do next year.
---
I can't wait to see what all you do next year (Claudia and Gladys too). Thank you all for making seventh period so enjoyable.
And with that, I bid thee farewell.