Mustang Game of the Year 2017
Advertisement
Hang on for a minute...we're trying to find some more stories you might like.
201 7 was treasure trove for gaming, as we saw the releases of games like the Nintendo Switch's debut with Zelda: Breath of the Wild, Platinum games releasing Nier: Automata, a sequel to Bethesda's Wolfenstein reboot, Guerrila Games' new Horizon Zero Dawn, the return of Persona, and even Mario, all in the same year. This has surely been one of the best years in gaming, probably since 2007. Though, when it becomes time to pick the game of the year, there can only be one winner. Here we list our top 5 nominees for the Mustang Game of the Year, and at the end we will chose one of the 5 to be our winner. Here we go!
The Nominees are:
5. Nier: Automata
Platinum's new game this year was a revisit to the Nier franchise, being that the last game was more like a niche title and had fairly unusual gameplay and weird controls, with Platinum's experience in fast-pace action-oriented game development, they made Nier: Automata just that. With amazing controls, action set pieces, intense boss fights, great narrative with multiple endings, and a stellar soundtrack. Platinum games delivers not only one of the best games this year, but one of the greatest action games of all time. We impatiently look forward to Platinum's next project, Bayonetta 3, and can not wait to take down more foes in the amazing action approach that they are so good at.
4. Horizon Zero Dawn
Guerrilla Games, after the release of Killzone: Shdaowfall, decided to work on a whole new IP that took place in a sci-fi post-apocalyptic setting where machines were now at the top of the food chain and humans must learn how to survive and hunt them down in order to thrive. This game would be Horizon Zero Dawn, and in what was a completely different genre of game that Guerrila had not worked previously, being open world games,  their first foray in this genre has certainly paid off. With the main protagonist, Alloy, who is a character that players can get behind, alongside with lore that helps contextualize the  world to make the players wonder the possibility of such a world if humans were to lose control of machines, and a well-written narrative to drive the player to its completion.
3. Super Mario Odyssey
The Nintendo Switch had a great launch, and they ended it with bang with a new adventure for our favorite Italian plumber. Super Mario Odyssey is one of the best platforming games to date and it shows immediately once the game is in action the amount of effort placed in the gameplay, game mechanics, presentation, and the worlds that you explore is evident. For me personally, this was my first ever Mario game, and I had one of the most enjoyable gameplay experiences playing through this game. Super Mario Odyssey is definitely a game you want on your Switch.
2. Persona 5
Persona 5, where to begin, the return of this series after an 8-year hiatus has been well worth the wait. Persona 5 offers one of the most rich RPG narratives that we've seen the Witcher 3 and Mass Effect 2. From managing student duties during the day and dealing with saving the world during the night, the player will befriend characters, and through its 100+ hr length, by the end of it all you will be left with one of the most memorable experiences this generation and possibly of all time.
1.  The Legend of Zelda: Breath of the Wild
The Nintendo Switch launched back in March 3 of this year, alongside with the release of The Legend of Zelda: Breath of the Wild. BOTW is game all about player freedom, as soon as the player starts the game, they have the choice to tackle the end boss head on, play the story quests to be prepared for the final fight, or simply go of freely in the world. There is never a way point pressuring to pursue the campaign, and the missions can be tackled regardless of order. Along the way the player will encounter towns, make allies, and experience a tale (although not the best) of heroism and destruction, and the world is your playground. It is hard to describe the enjoy this game offers, but all that we can tell you is that it is definitely a must-have for the Switch.
Honorable Mentions: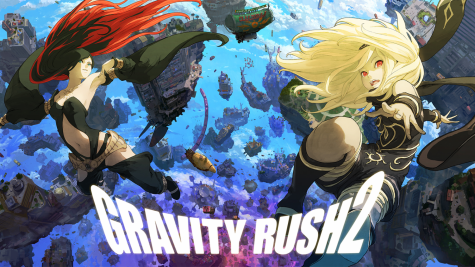 3. Gravity Rush 2
Gravity Rush 2 returns to our gravity-defying protagonists Kat and Raven as they tackle new challenges and new unfamiliar areas. Their is an innate joy to flying and dashing through the air and performing a dive kick to destroy an enemy. This is my personal favorite on this list, as it brought emotional moments I was not expecting while giving unique gameplay that can not be found anywhere else. If you ever happen across this game, give it a shot.
2. Xenoblade Chronicles 2
Although this game has only released a couple of days ago, it is clear that Xenoblade 2 offers a solid narrative with characters that make the player care about their well-being. Even if the combat system is complicated, and hard to get a grasp of at first, this Nintendo Switch adventure is one worth picking up.
1. Wolfenstein 2
Probably the best shooter to be released this year, not only does Wolfenstein excellent gunplay action and Nazi destruction, it displays a very strong narrative that is not really found in FPS games today. Wolfenstein 2 breaks boundaries with flying colors and well worth the purchase.
The Mustang Game of the Year 2017 is:
Persona 5
Persona 5 has had such an impact on us, especially for me, as it was my first ever Persona game, and it delivered well over my expectations. At first I thought this game to be a Japanese highschool student simuator, but as it neared closer to its April 2017 North American release, I was hearing good press surrounding it. I gave it a try, and it was almost impossible to put down the controller. While yes, this game is extremely long, as both my playthroughs exceed 100+ hours, its strong narrative and compelling characters really leave an impact on the player. When you finish this game, you will miss hanging out in Tokyo, Japan with your magical highschool friends. Right now I'm on my third playthrough, and I expect to finish it during the upcoming Holiday break. If you itching for a great RPG or JRPG experience, we strongly encourage you to try this game out. You may never want to put down the controller.