Topic: Gun Control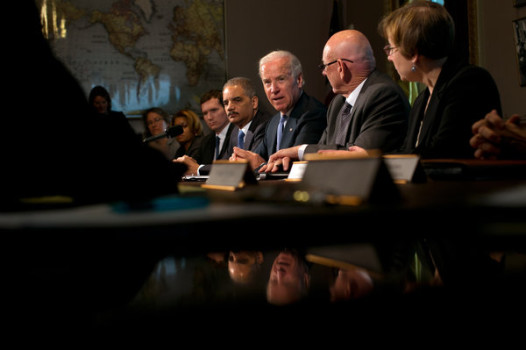 Hang on for a minute...we're trying to find some more stories you might like.
According to famous comedian, Chris Martin, America isn't in need of any gun control. What we need is bullet control.
 "I think every bullet should cost $5,000," Martin says. "If every bullet cost five thousand dollars, we wouldn't have any innocent bystanders." In today's nation, a nation filled with people who are trying to hold on to every dollar they've got, he has a point.
 Now, I completely agree with Chris Martin. Gun control will not dilute the amount of incidents like the tragedy in Newtown Connecticut that killed 20 elementary school children because it isn't realistic. A country that can't control the trafficking of drugs cannot control the trafficking of guns. Someone will surely find a way to get a gun.
 America needs to strongly reevaluate the problem at hand and start looking underneath the surface. Congress needs to get to the root of the problem and realize a multitude of reasons why these mass shootings are such a common occurrence nowadays and destroy them. In order to resolve this problem as best as possible, Congress needs Dr. Drew to understand that people don't shoot people because they have guns. That's like saying I'm writing this story simply because I have a computer. People are shooting people because they have problems, problems that are not being resolved.
44 percent of Americans have reported that their stress levels increased significantly over the past five years, according to MSN online. Not a surprising statistic. Interest rates on student loans are almost certain to be on the rise after 2016, the economy is a mess, there's this constant fear of tax raises and unemployment; all of this is definitely something to be stressed out about. Also, family doesn't seem to exist for most of the individuals who commit these crimes: divorce, an issue Adam Lanza faced, has become more frequent in America today. 40-50 percent of marriages, according to the American Psychological Association, end in divorce, which has led me to believe that this issue, and many other psychological issues, are causing the problem.
In order to dilute  the amount of mass shootings in America, we need to dilute the number of divorces, the rate of unemployment, and keep the interest rates on student loans manageable and much more.
 Now, Congress certainly cannot do all of these things in one day, in a week, or maybe not ever. These things won't be achieved by them because they cannot be resolved with paper and pen. It's not the law of the government that needs to be fixed, but the law of our society.
 We know we don't have our morals and values straight, but we're not really doing anything about it. These people are only products of our society, victims. In such a confusing world, it's hard to know what the right things to do are, and with no direction from those we need it from, it's difficult to decide how our problems  (anger, sadness) should be dealt with.
Now, because these problems are not relevant to everyone in America, not everyone should be forced to suffer the restrictions implemented on gun because of this  incident. This is what English teacher Mr. Moore believes.
"A lot of hunters I know are very responsible," Moore said. "They lock their guns away in safes where no one but them has access to them."

Moore also believes that possible gun restriction laws are unrealistic. He believes that these laws will not touch every single person in America. The scope is too wide to cover and, to him, it would be impossible to crack down on every individual who has registered, owns, or has access to a gun.

Gun regulation would not prevent mass shootings or eliminate guns owned by citizens. So maybe this simple fix that everyone can do, no matter who they are, will help.  If we learn to comfort those who need to be comforted, if parents guide their children as they should and show them all of the love in the world, we can dilute the number of misconducted, confused victims of potentially, personally detrimental issues. If this is done, then mass shootings like these can possibly be eliminated. It takes sadness and anger to produce a bitter heart. With love we can give comfort and joy to people who need it the most and keep them from hurting others as well as themselves.

Adziko N. Tsatenawa, Reporter
Michael Rey Hinojosa (12) is an active member of the Fellowship of Christian Athletes and the National Honor Society. Most of his weekday afternoons in...