App of the Week: The Impossible Game
Hang on for a minute...we're trying to find some more stories you might like.
Tired of slugging around the app store searching in vain for a worthy prize of your entertainment? Let me entice you.
The impossible game has stroked itself among the elite as a fast-paced, harmonizing symphony that parallels a course of blood churning labyrinths. The game itself was produced by Fluke Duke, and up for grabs in the app store for .99$, and 80 Microsoft points on the Xbox.
Once celebrated as the best selling app on the App Store and the Xbox Live Marketplace, it retains a systematic game play experience that amps music with the game's rhythms. The farther you hippity-hop your way through the fast interchanging dilemmas, the more the music evolves.
When purchasing The Impossible Game on your device, it comes with one level called "Fire Aura." Then in the in-game menu, there will be an option to expand your horizon and add three more levels. The levels are an expansion pack from the Xbox 360, and PS3 market packs.
In congratulation to its high amount of addiction stress, and the never ending amount of re-try's, the goal is to finish the song before the game finishes you.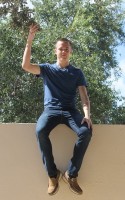 Christian Williams, Opinion Editor
Greetings, I am your friendly neighborhood Christian Williams. I have been part of the Newspaper at TheRound-UpOnline.com for three years. I have devoted...