Guilty or Self Defense?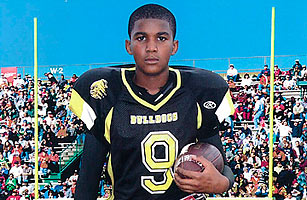 Hang on for a minute...we're trying to find some more stories you might like.
February 26, several 911 calls of an altercation startled Sanford, Florida civilians. Screaming and pleas for help drove scared families into their homes and brought trembling voices to whispers that Friday afternoon.
George Zimmerman, a neighborhood watch guard, called 911 to report a suspicious man. This suspicious man was a "black male wearing a black hoodie."
That suspicious man was later identified as Traybon Martin,17, who was walking back home from a convenience store. When police arrived at the scene, Martin was found lying dead in an alley with a gunshot wound in his chest.
It's no secret that Zimmerman was responsible for Martin's death, but the real question is not "Who?" it's "Why?"
Why would Zimmerman have any reason to believe that Martin was dangerous? Martin was completely unarmed; the only thing in his possession was a drink, and a candy bar. It's safe to say that he was completely harmless.
It is also safe to say that this entire incident could have very much been avoided.
When dispatchers received Zimmerman's 911 call, they specifically told him not to confront Martin, to stay put. Zimmerman deliberately defied orders and took action on a suspicion that had no solid premises to provoke any kind of insecurity. Now Martin is dead, but for what?
Zimmerman claims to have shot Martin in self-defense. What was so threatening about Martin that Zimmerman would have to take him to an alley and pull out his gun? A sugar rush? High sodium?
One possible answer to all of these roaming questions could  be racial profiling. Zimmerman could be guilty of racial profiling. As residents explain, the neighborhood has been suffering from racial tension. This fact very much supports this shy thesis.
The answer to all of these questions can also be answered with one word-assumed.
The neighborhood has been suffering from numerous burglaries and it would be natural for Zimmerman, the neighborhood watch guard to be in a resentful state of mind causing him to assume that Martin was dangerous. He assumed that Martin could have possibly been a burglar.
Zimmerman is the neighborhood watch guard, his job is to protect the neighborhood from dangerous people and when it comes to the lives of people there is no room to be lax about suspicions. This neighborhood is terrified, like mentioned before there have been a numerous amount of burglaries recent to the time of this incident. But, in numerous 911 calls there was said to be a voice screaming, and pleading for help. What if that was the voice of Trayvon Martin.
If that was Martin's voice, which many people believe it was, why did Zimmerman shoot him?
A 17 year old boy, was pleading for his life. If he did attack Zimmerman, Martin couldn't have died. Zimmerman could have just put the gun down, taken Martin's plea as a surrender, and detained him well and alive.
If those were Zimmerman's pleas for help, it would be hard to imagine that this scene could have ended with the death of Martin because Martin brought a candy bar to a gun fight; Zimmerman obviously had the upper hand therefore, in this situation, Zimmerman didn't have any thinkable reason to scream for help.
The only remedy that can possibly answer all of these unanswered questions, and bring justice to whomever needs justice served to them, would be the law. A complete and thorough investigation and a thoughtful trial in court will be the only things that can answer our question right now, because the only people that know the truth are either dead or mute.