Isle of Dogs Review
One of the best films of 2018
Advertisement
Hang on for a minute...we're trying to find some more stories you might like.
It has been 4 years since the famous Wes Anderson last directed a film with the 2014 film The Grand Budapest Hotel. Personally, I am a big fan of his work as I was introduced to it back in the 2009 film of Fantastic Mr. Fox , and ever since I have been eager to see whatever films he cooks up as every time audiences are in for a unique tale that can only be told through Wes Anderson's direction. Now in 2018, his new film takes audiences to near-future dystopian Japan in Isle of Dogs that has banished all dogs from the country to due to a virus outbreak. It is surely a premise that has not really been visited in cinema before, but this strange tale has an important heartfelt message of friendship that can break the boundaries of government oppression and will leave a lasting impression.
Like previously stated, Isle of Dogs takes place in a near-future dystopian Japan that has banished all dogs from the country to an island called Trash Island due to a virus outbreak, ignoring the fact that a scientist nears the completion of a cure. Atari, the nephew of the authoritarian mayor who signed the banishing decree, takes a plane and flies to Trash Island to find his dog, Spots. Although as soon as he reaches the island he crash-lands and is helped out by five dogs by the names of Rex, King, Duke, Boss, and Chief. These dogs then decide to go along with Atari's search to find Spots.
Along the way, Atari bonds with his unlikely group of allies in a way that feels earned as the audience see the journey that they endure together. The character development is great despite that the humans in the film speak for the most part in Japanese, without subtitles. The only ones that really speak English are the dogs, but this does not hinder the storytelling by any means.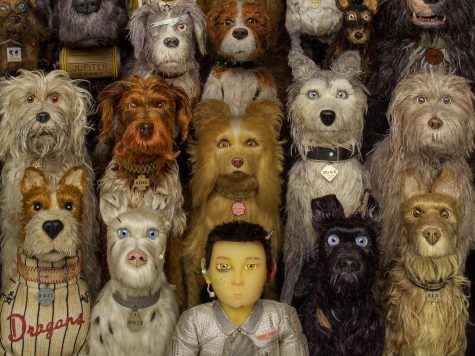 It is also important to highlight the stellar cast that this film boasts. Personalities such as Bryan Cranston, Jeff Goldblum, Bill Murray, Scarlett Johansson, and more – really bring their best to this film and it is evident through the film as the story is presented in such a way that makes such an outlandish story idea seem so believable.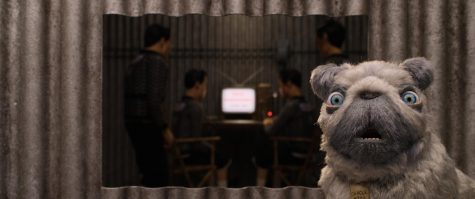 Isle of Dogs is such a fantastic film (as expected from Wes Anderson) that we strongly recommend anyone who has not see the film to immediately do so. It is a film that is well worth the price of admission and makes you want to see it for a second time after you leave the theater. Now I wait for what Wes Anderson makes next, who knows where he will take us next.
Mustang Pride Verdict: 9.8 out of 10