Monster Hunter: World – Preview
Advertisement
Hang on for a minute...we're trying to find some more stories you might like.
The Monster Hunter franchise has been around since 2004 back on the PS2 and seen several sequels and spin-offs on various platforms. Most previous Monster Hunter games have had handheld counterparts, whose shortcomings were noticeable, but despite the hardware limitations, Capcom was always able to deliver a fun experience. Now in 2018, Monster Hunter has a series entry that has no handheld version coming with, and it shows with the fantastic graphics that it boasts, and that game is Monster Hunter: World. I've always been interested in the Monster Hunter series, having played two of the past entries such as Monster Hunter Freedom 2 on PSP and Monster Hunter Generations on 3DS, it has brought me some of my favorite video game experiences, but it always felt that being on handheld always held it back a bit. Though, Monster Hunter: World aims to shake things up a bit and break the shackles of hardware limits, and bring a game that has been made from the ground-up for consoles. Not only does this latest entry prove itself worthy of the franchise name, but also has garnered more attention from western audiences than previous years, making it a more appealing franchise outside of its Japanese community.
With around 20 hours of playtime now, I have a general idea of what Monster Hunter: World has to offer, and its great! Right from the start, the amount of customization options is vast, from an in-depth character creator for both your character and your palico, while also having various armor options for both. There are also a total of 14 weapon types, ranging from long swords (my favorite), hammers, great swords, to bows and bowguns. Which provides enough weapon variety to fit almost every type of player in the best possible way.
Hunts in the game are a really fun breakdown of tracking the beast you are seeking, having the right gear for the job, and finding a monsters' weak points to put out as must damage as possible. Hunts can be done solo, but it is highly recommended for them to be completed in co-op as some hunts benefit from the extra help. There are many ways to help take down a target, either by jumping and mounting on top of it to deal some damage, or luring it to another beast in order to make them fight each other, or by using the environment to help bring down the beast by using natural traps or ones made by yourself.
The story mode that is implemented in the game, which is probably the first time the Monster Hunter series has had any form of a cinematic story, is done pretty well here and fits perfectly in the world that is Monster Hunter and never fells out of place. Doing the main quests as you progress also unlocks news areas and abilities to take advantage off, for example, after going a far bit within the campaign you unlock your private quarters that the player can customize in various ways to their liking, while some provide practical use, like unlocking a garden to grow resources instead of having to always head back out into the field and gather them.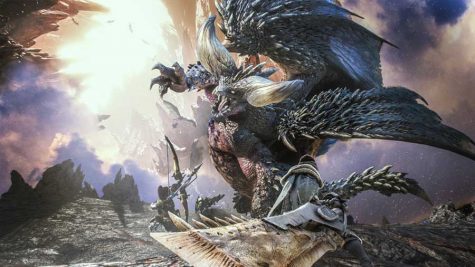 Monster Hunter: World so far seems to be a fantastic game and a great starting point for new players to get into the series, that right now is stronger than ever. I can not wait to put in more hours into my adventures as a hunter and gather up with people online to bring down the fiercest of foes. We highly recommend in picking up and giving this game a try and embracing the amazing world that is Monster Hunter.