10 Games to Keep A Look Out for Fall 2017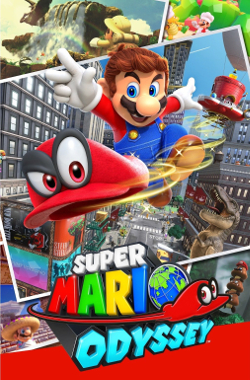 Hang on for a minute...we're trying to find some more stories you might like.
Fall is now upon us, and with the approaching holidays comes amazing game releases. While 2017 has been extremely generous so far with many great titles, much more await to be released still, but which ones should we keep an eye out for and are they worth the money? Games are fantastic, but from each new title usually priced at $60, choices have to be made. So here is a list of some great games, ordered by release date, to keep on the wish list.
Forza Motorsport 7: October 3, 2017 – Xbox One, PC
Microsoft's car racing series gets another entry this year with Forza 7 and comes with it an array of updates over its predecessor. Unlike last year's Forza Horizon 3, which was a spin-off series, the mainline games focus more on the simulation side of car racing. Which can be imitating for some, but every Forza entry is always a good time to jump in, whether new to the car racing genre or a seasoned vet. Also, for those that will have a Xbox One X this November, the game boasts various graphical enhancements for Microsoft's latest console.
2. The Evil Within 2 – October 13, 2017 – PS4, Xbox One, PC
A personal favorite of mine from this list, The Evil Within, makes a return with a sequel. While Shinji Mikami will not be returning to the role of director, it seems to be in capable hands with John Johanas who directed the first game's DLCs, which were well received. Either way, we can not wait to enter the dark world of The Evil Within once more and conquer our fears.
3. Gran Turismo Sport – October 17, 2017 – PS4
Microsoft is not the only one releasing a big name in the car racing genre this year. Sony is set to release a new entry in their critically acclaimed Gran Turismo series with Gran Turismo Sport by Polyphony Digital. The Gran Turismo series is well known for its attention to detail in racing simulators, and GT Sport looks to be continuing that trend.
4. South Park: The Fractured But Whole – October 17, 2017 – PS4, Xbox One, PC
After suffering a year-long delay, Ubisoft's new entry in the comedic role-playing game series featuring the world South Park is finally to release this Fall, and if the past game and the trailers have anything to say about South Park: The Fractured But Whole, is that this title is not holding back anything and will be a blast to play.
5. Assassin's Creed Origins – October 27, 2017 – PS4, Xbox One, PC
After taking a year break of annual Assassin game releases, Ubisoft is now set to release Assassin's Creed Origins this October. Bringing with it a new combat system, a story focusing on the start of the Assassin's Creed, and a focus on the roots of the series. This new entry has the potential to bring a much-needed refresh.
6. Super Mario Odyssey – October 27, 2017 – Switch
Is there really needed to say about Nintendo's upcoming Mario title that has not already been said? From the amazing new worlds to the new gameplay mechanics, and excellence in platforming design, Super Mario Odyssey is looking to be one of the best games of 2017.
7. Wolfenstein II: The New Colossus – October 27, 2017 – PS4, Xbox One, PC
Bethesda returns to their reboot of the Wolfenstein franchise with its sequel, Wolfenstein II: The New Colossus. Bringing back the Nazi annihilation chaotic fest that the series is known for. With great FPS action and big guns at your aid, are you ready to free the United States from Nazi Germany's rule?
8. Call of Duty: WII – November 3, 2017 – PS4, Xbox One, PC
After years of futuristic, jetpack flying, and wall-running/climbing action, Call of Duty goes back to its roots with Call of Duty: WII. Coming along with it is a redesigned multiplayer structure, along with a zombie mode, which sets up this title to have a good amount of content at launch. With this installment, Activision aims to bring a much-needed refresh to the annual franchise.
9. Star Wars Battlefront II – November 17, 2017 – PS4, Xbox One, PC
After the mixed reception of EA's reboot of the Star Wars Battlefront shooter series, DICE aims to address the issues that plagued the first installment with this sequel by bringing all Star Wars eras together, space battles, a single-player campaign, and more. While personally, as a big Star Wars fan, I cannot wait to play as a clone trooper and wreck some droids.
10. Xenoblade Chronicles 2 – December 1, 2017 – Switch
Monolith Soft, along with Nintendo, bring yet another entry within the Xenoblade franchise aimed at bringing in an entertaining combat system in tandem with an engaging plot to make this a rpg worth the time investment. Personally, as someone who has not played any of the previous titles is interested in trying out this title and see what makes the Xenoblade series such a noteworthy staple in jrpgs.
This concludes the top 10 games to keep an eye on for the fall of 2017. The titles included here are just some of the great games coming out this fall, with others like Middle-earth Shadow of War and Lego Marvel Superheroes 2 that are sure to leave an impression on players. 2017 has been and continues to be a very solid year of good game releases and no matter what purchasing choices you make, you'll surely end up with an enjoyable title that'll provide hours of fun.